How to Choose a Nursing Program: 4 Steps for Making the Decision
Each blog post is dated and contains accurate information as of that date. Certain information may have changed since the blog post publication date. If you would like to confirm the current accuracy of blog information, please visit our ABSN program overview page or contact us at (866) 892-6747.
If you're wondering how to choose a nursing program, you'll want to consider factors like the type of learning environment, any waitlists, and the prerequisites required and offered through the university you're considering. With the right criteria, you can find the perfect fit for your education.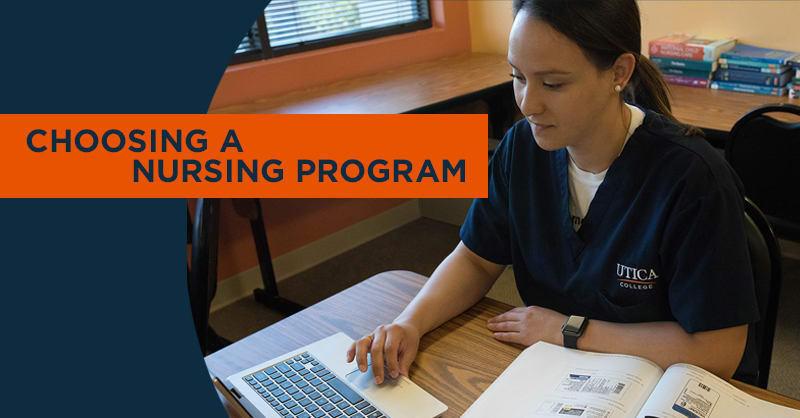 Because you have a passion for caring for others and know career opportunities abound for highly skilled nurses, you're sure you want to change careers to nursing — the sooner the better. But the question remains: How do you sift through all the nursing schools out there to find a quality program to best meet your needs?
If you're not sure about how to choose a nursing program, the Utica College Accelerated Bachelor of Science in Nursing program is here to help. As a 16-month advanced standing bachelor's degree program offered through a hybrid learning format, we understand that if you're pursuing a degree, you want a program that can set you up to quickly pursue competitive job opportunities within your desired field. Read on to discover four important steps you should take when choosing a nursing program and gain the insight you need to make an informed choice.
1. Research How Long It Will Take for You to Earn Your Degree
Completing a new degree in nursing can pose a significant time commitment, with traditional nursing programs representing a four-year commitment. If this seems too long of a timeframe to fit in your professional or life goals, an ABSN program could represent a more direct route to your nursing degree provided you meet program admissions requirements.
These represent the timeframes for nursing programs once you're enrolled, but factors like prerequisite courses and waitlists can delay the point at which you can fully start your nursing education. With this in mind, programs that allow you to begin sooner can help you reach your goals sooner.
See How Prerequisite Courses Will Impact Your Admission
Prerequisites for nursing school are meant to cover all relevant background information for your participation and success in any nursing program before you can enroll. Because nursing programs, and especially ABSN programs, move so quickly, you need to be prepared to take on the coursework as it comes without getting caught up on more foundational elements pertaining to biology, anatomy and more. Research the prerequisite courses that each program requires to determine how quickly you can start. Remember though, if a program has no prerequisites that could be a red flag.
Before you can enroll as a Utica ABSN student, for example, you must first complete six prerequisite courses that can be completed at any accredited higher learning institution or online through Utica College's Prerequisite Priority Program (PREP). Students who take their nursing prerequisites through PREP may reserve a seat in the ABSN program while they work to complete their remaining prerequisites, unlike other nursing schools where students complete prerequisites first then wait for an admission decision on their acceptance into a program.
Find Out if There Is a Waitlist Associated with Your Nursing Program
Traditional nursing schools with no waiting list can be rare, and many university nursing programs can only start students once (maybe twice) a year. In some cases, you could even earn a traditional bachelor's degree in the time it'd take you to start classes in some nursing schools with a waitlist!
That's not the case at Utica ABSN: We have the capacity to enroll a high number of qualified students because we enroll three starts (January, May and August) every year. That means if you meet the qualifications to enroll, you can start classes when you're ready — not just when there's an opening. Once you complete all the prerequisites, you can earn your nursing degree in as few as 16 months.
"When deciding on a program, I was looking for the convenience of getting in early," says Logan, Utica ABSN program graduate. "A lot of other schools had long waits and told me I'd have to wait at least a year to start… Utica's ABSN program was more convenient for me since it had an earlier time."
2. Evaluate the Culture of Each Nursing Program
In as challenging of a field as nursing, a supportive learning environment is paramount to ensuring that you can succeed in the program and graduate ready to treat real patients with confidence. Pay careful attention during your discussions with nursing school admissions representatives (and follow up with research) to ensure that their culture feels like the right fit.
Research the Academic and Personal Support Offered Through the Program
Academic and personal support in a challenging program can make the difference between success and failure. This means accessible instructors and staff, a culture of collaboration with your cohort, and individualized attention in an environment where you're more than just a number.
Utica ABSN's main priority is to help you succeed in completing your degree and achieving your goal of becoming a nurse. Even before you apply, our dedicated team of admission representatives can help you navigate every step of the application process, from gathering transcripts to completing certification requirements.
Then, once you're enrolled as a Utica ABSN student, you can look forward to that same level of personalized support from everyone you interact with through our program — from fellow members of your nursing school cohort to your lab and clinical instructors.
"The patients, the nurses, the clinical instructors — everyone I encountered throughout my clinical rotations was willing to provide that experience and make sure I got that practice in," says Dia, Utica ABSN Class of August 2017.
3. Determine How Each Program Approaches Their Curriculum
Nursing is a demanding profession that requires knowledge, aptitude, and the ability to rapidly react to a wide array of patient care situations. Especially if you're pursuing a degree through an accelerated nursing program, you should look for a program curriculum that does as much as possible to acclimate you to real-world patient care. With as little as 16 months to prepare for an entirely new career if you're considering an ABSN program, you'll want every bit of experience you can get.
See How the Curriculum Helps Build Real-World Nursing Skills
A nursing school curriculum should, in addition to meeting all accreditation requirements, provide a solid foundation to base a nursing career on. While coursework is valuable, classroom or online learning alone doesn't provide the necessary experience to treat real-world patients. Look for a nursing program that emphasizes lab and clinical experience, and you'll know that you'll be prepared for your future role as an RN.
We designed the Utica ABSN curriculum not only to meet New York state licensure and regional accreditation requirements, but also to equip students with the key skills today's healthcare employers demand. The Utica College ABSN program curriculum involves three primary components:
Online courses feature interactive media and animations to not just memorize material, but rather to help you understand how nursing theory concepts affect patient care.
Hands-on patient simulations and skills labs that take place at our program site serves as the perfect experiential learning components essential for creating confident, practice-ready nurses.
Students in the Utica ABSN program complete clinical rotations at various leading healthcare facilities in central New York, under the watchful eye of experienced instructors and preceptors.
4. Ask About the Program's NCLEX-RN Exam Pass Rates
As the professional licensure exam all nurses must pass before they can practice, the NCLEX-RN exam is one of the most important elements of pursuing a career in nursing. While NCLEX pass rates are not a direct indicator of job placement after graduation, they are a testament to a nursing program's quality. In fact, many past students have reported they've felt more than prepared to take the exam and enter the field a practice-ready nurse upon graduation. With this in mind, you should make sure you're aware of the pass rates for any nursing school you're considering.
How Can a Program Prepare You for the NCLEX-RN Exam?
The best preparation for the NCLEX-RN exam is participating in a quality nursing program, while staying connected to your instructors and fellow cohort members as you study in advance of the exam. If a program has imparted proper knowledge of nursing skills, techniques and theory, the NCLEX-RN exam should not contain much material that you aren't familiar with.
As an accredited college, we are driven to prepare our students to take the NCLEX-RN, and format the tests throughout our ABSN program to familiarize students with the structure of the NCLEX-RN exam. In 2019, Utica College's Syracuse, New York ABSN program graduates had a first-time NCLEX pass rate of 89%.
"The first opportunity I had I took it and passed with 75 questions," says Utica ABSN alumnus Lee, now a critical care RN at Tampa General Hospital. "Some of the tests we took here were more challenging, but I'm happy for that because it made me feel comfortable when I had to go take the test."
Choose the Right Nursing Program Today
Students choose Utica ABSN because they want a top-notch nursing education without having to wait for admission into a traditional nursing degree program. The Utica College ABSN program gives them the opportunity to earn a B.S. in Nursing and enter the field confidently in as few as 16 months.
Now that you've learned how to choose a nursing program that works for you, consider this: our students are bright, motivated and eager for a meaningful career change. If that sounds like you, contact one of our admission representatives. We'd love to help you navigate your path to your nursing future.