Nursing School vs. Medical School: Factors to Consider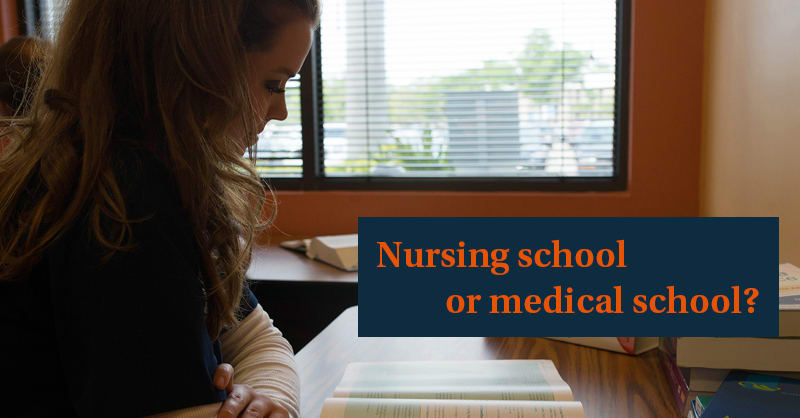 When it comes to finding your calling, there's no one right path that is suited to everyone. In the nursing field, for example, some RNs come to the profession straight out of a four-year baccalaureate program, while others find their way after investing years in another career. Still, others might turn to nursing after exploring or considering other educational tracks including medical school.
In the Utica College Accelerated B.S. in Nursing program, we see many students from all types of degree fields and backgrounds. Often, students are drawn to nursing for the differences they could make in patients' lives, as well as the direct path they could take into a rewarding career with plenty of opportunities for growth, advancement and flexibility. However, don't take it for granted that nursing school will be much easier than medical school, especially in an accelerated format. Both offer a unique set of challenges and demand the utmost in student commitment and work rate.
When comparing the different benefits offered through nursing school vs. medical school, here are a few factors to keep in mind as you make your choice.
Role Differences Between Nurses and Physicians
Nurses and physicians are both vital to providing patients with quality care, but their roles within patient care are different and cater to different personality types. Physicians, for instance, are focused on patient care from the point of view of the disease model, emphasizing diagnosis and treatment. Non-advanced practice nurses, however, are more oriented toward a holistic model with patients. Nurses apply their technical skills to developing one-on-one patient relationships while administering and coordinating care.
Nurses are also more likely to be first care providers, able to notice subtle changes in a patient's condition and communicate with the rest of the care team to adjust or more closely monitor care. If the more individualized role of nursing appeals to you, nursing school might be the better answer to start your career.
Educational Timelines Before Entering the Job Market
Becoming a physician is a worthy pursuit, but it's a long one. Medical school typically takes four years to complete; factor in three to eight years for your internship and residency and the four years (or more) it took to earn your bachelor's degree, and you could be looking at as many as 16 years of education and training.
The path to nursing, however, can be much more direct. Your first bachelor's degree qualifies you for Utica's Accelerated B.S. in Nursing Program in New York, which has three start dates per year and can be completed in as few as 16 months. After you graduate with a bachelor's degree in nursing, you can sit for the National Council Licensure Examination to earn your RN license. The combined power of your nursing degree and RN license means you'll meet the qualifications for any entry-level nursing position — all in less than two years.
Rates of Job Growth
Physician and RN jobs are both expected to grow between 2020 and 2030, but the rate of growth for job prospects in nursing outstrips that of physicians and surgeons by approximately three times. According to the U.S. Bureau of Labor Statistics, the nursing field is projected to grow by 9% by 2030, with careers for physicians and surgeons growing by 3% during that time.
Why the difference? In both instances, technology plays a big role. Advancements in medical technology and the rise of telehealth have allowed physicians to treat more patients in the same amount of time, thereby reducing the number needed on staff. However, those same advancements are driving the need for more RNs — specifically RNs with a bachelor's degree — to manage the growing complexities of healthcare delivery and shoulder more responsibility than in decades past.
The Range of Career Opportunities
When you think of your prospective career after nursing school, the first place you think of is probably the hospital. However, a Bachelor of Science in Nursing degree for a licensed RN opens the door to an array of career opportunities in a variety of different settings. Nurses can practice across a range of care areas including adult health, pediatrics, mental health, community health and beyond, applying their skills to delivering impactful care. In fact, the Utica ABSN program includes clinical rotations at top local healthcare facilities to allow students to gain experience working across several of these care areas and prepare for a rewarding career.
Furthermore, beyond hospital settings, nurses can establish a career in a hugely diverse range of settings including schools, urgent care clinics, corporate clinics, military facilities, outpatient surgical facilities and more. By offering greater flexibility to find your ideal work environment, nursing school can offer a greater possible range of career options.
Make Your Nursing Choice with Utica ABSN
While both options are noble and can set the right student up with the foundation for a rewarding and lucrative career, making the choice between nursing school vs. medical school ultimately comes down to whichever makes the most logistical sense and carries the most appeal for you. To learn more about the Utica ABSN program and make your choice, reach out to an admissions representative today.